I like cooking, sometimes, and the rest of the time I hate my kitchen with a passion. My husband laughs because one day he will come home to pot roast, veggies, homemade rolls, and cookies or brownies. However, the rest of the week we're eating hamburger helper or those skillet
insta
' dinners. Instead of continuing this feast or famine style of cooking, I'm going to try freezer cooking/once-a-month cooking. Hopefully, I can have a big cooking day when I feel like cooking, freeze a bunch of meals, and then just drop them in the oven on the nights I don't feel like cooking.
Unfortunately, I've had mixed experiences with recipes I get from the Internet so if I'm cooking really big (read expensive) batches of dinners I want to be sure the recipes are worth cooking. I got one book at the used book store - Linda Larsen's "Meals for a Month" and I have the "Super Suppers" Cookbook on hold at the Library. The book I have so far has some really good looking recipes in it. I'm having a hard time picking just 10 recipes to try first. They all look so yummy. I've seen the website for Super Suppers and they have some tasty looking dinners too but I'm too cheap to buy their dinners so I'll just try cooking their recipes at home :)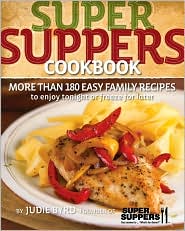 If anyone has any freezer
recipes
they've tried, liked and are willing to share, I'd
appreciate
it. Otherwise wish me luck with my new
experiment
and I'll let you know how it goes.